From January through to July we were working hard at Clean MyRide on our product testing, sampling and customer/retailer feedback, fine-tuning our first product to market, our combined #bikewash #degreaser; organising our logistics and distribution along with finalising our packaging and marketing materials. A lot of hard work but incredibly enjoyable and exciting.
Events, events and more events!
The second half of 2017 has been even better. It kicked up a gear when one of our customers recommended a couple of #motorcycle shows and club events that we should attend and kindly gave us contact details of the organisers. Our very first was at #Brands #Hatch with the Kent Advanced Motorcyclist Group KAMG who kindly welcomed us into the fold. We've returned every month since to The Kentagon!
A few days later Clean MyRide was at our first outdoor event in Eridge, Tunbridge Wells with The Huntsman MC and their annual bike show. This was the beginnings of a highly addictive stream of weekends spent with amazing people with a shared passion for all things motorcycle whether vintage or modern.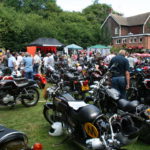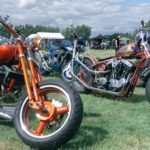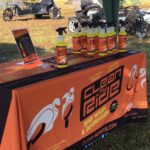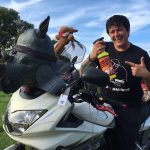 The Renegades Rally in Upchurch, #Kent was our first full weekender, again amazing people, fantastic bikes, great bands and an eye opener to a side of #motorcycling culture not previously involved in or exposed to. A special thanks to Skully and Renegades MC for your hospitality. Already looking forward to your 2018 event! Likewise with Norsemen MCC, Kent Chrome & Custom and Hells Angels HAMC Kent.
The Hells Angels Yard Party deserves a special mention.
Brilliantly organised and ran by the club with a superb club house, well stocked bar, top bands and bikers and trikers who had travelled the length and breadth of the country (including Scotland) to attend. It was here I first got to know Ralph, a gentle giant of an Angel who marched towards the Clean MyRide stand and quickly told me he had heard about how good our #bikewash #degreaser was and wanted to see for himself. Armed with a sample bottle and a cloth he chose his target, a friend's Triumph Trophy 1200 that had definitely seen cleaner days.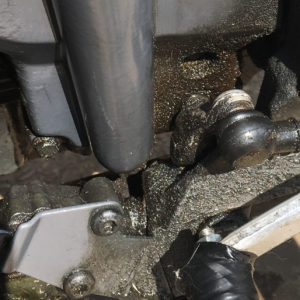 Under Ralph's hood-like moustache he grinned as he knelt down to the gear shift and engine casing covered in oil, grease, road crap, grime and tar. "If it shifts this I'll buy it and tell everyone," he said. A couple of squirts of Clean MyRide and 90 seconds later with a quick wipe of a cloth we had our first customer of the day with many more coming along throughout the weekend thanks to Ralph. From then on we've never looked back. Want to order a bottle? Click here
Drink, Drop and Doss (#DDD) near #Canterbury with the Rejects Brotherhood was equally as good despite the freezing temperatures, again brilliantly organised with fantastic people travelling far and wide to be there including Ralph and all the crew from Support 81.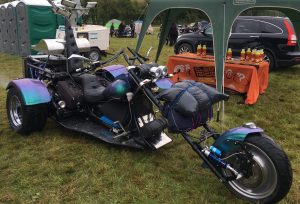 Our last big weekender event was Bum In The Mud's Bumtoberfest at Mersea Island near #Colchester in #Essex. The very first #Bumtoberfest was superb with a great team organising and running the event, yet more excellent bands and fun bunch of 'Bumtoberfesters' to boot. Looking forward to both Bum In The Mud in 2018 and Bumtoberfest 2. Thanks to Karen and the team for your collective hospitality.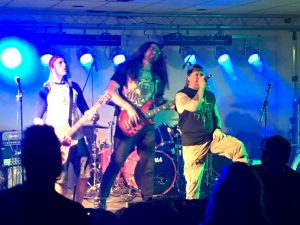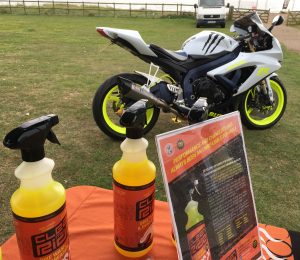 Around the events listed so far, Clean MyRide has attended The Copdock Bike Show, Kempton Park Autojumbles, The South of England Classic Bike Show and Autojumbles, bike nights at The Custom Café Bexhill (thanks Caroline and Nick), Bangers Café at Detling Hill in #Maidstone (thanks Nicky), The Oakdene Café at Wrotham, an evening with East Kent Advanced Motorcyclists in Ashford and several other events that we have been asked to attend. All of which have been worthwhile for us as a business, driving awareness and sales of our #bikewash #degreaser, but we've also made lots of new friends along the way.
We have had some great support from our retailers too, early adopters of Clean MyRide, often using our bikewash and degreaser both in their workshops as well as selling to their customers. A special mention to Fastlane Motorcycles, Sturdeys and GMS Motorsport Tonbridge, Motobox Motorcycle Rentals and Mill Garage in Hildenborough, Forge Garage Repairs and Slipstream Tuning in Sevenoaks, John Harris Motorcycles in Crowborough, Bolt Bikes in Bexhill-on-sea,  VO2 Cycling in Hildenborough and last but not least Cycling Made Easy in Tunbridge Wells. Thank you all.
Interested in stocking Clean MyRide? Get in touch click here
So what's been the best part of our ride through 2017?
In my personal view it has to be the three F's…Friendships, Fun and Feedback.
Whether customers or retailers, people we've met at events and kept in touch with, other traders like Gaz and Kaz with PunkStop and Klaus from Madhouse Bikebreakers who kindly lends us bike parts to clean at events we're both at, it's been great to get to know you and the many bikers, trikers and pillions we've spoken to, laughed and drank with throughout the year. Long may it continue as we roll into 2018!
Finally, as the year and this blog come to an end, a very special thank you to all our customers and in particular to those who have kindly taken the time to send us photos, videos and written reviews for us on our social media (Facebook, Twitter, Instagram, Google Business and our website). Your feedback is invaluable so please keep spreading the word (and of course using our product). Our parting words for this year are thank you all again, ride safe and please keep your bikes well locked up!
Happy New Year and see you all on the other side in 2018!
Paul and Steve