Clean MyRide would like to pass on our congratulations to this season's winners of 2019's Summer Sixes Speedway Tournament – Crayford Kestrels.
After a long hard summer, Crayford emerged victorious to claim the Summer Sixes League Championship in this, their comeback season after an absence of over 35 years. And once again, it was the strength in depth of the Kestrels team coupled with yet another star debut from an un-raced novice Chris Laidlaw that won through.
With Chris Watts as captain and Will Little, Josh Couzins, Paul Whichello, Louis Bryant and Chris Laidlaw as team members and Mark Shipman managing the team, they have all brought the Crayford Kestrels name from the history books back to the front pages of amateur speedway.
SSL CHAMPIONSHIP – FINAL LEAGUE TABLE 2019
Crayford Kestrels                   259 pts  (wins 3)
Sittingbourne Crusaders             242 pts  (wins 2)
Wimbledon Dons                         224 pts  (wins 1)
Oxford Cheetahs                           199 pts  (wins 0)
Southern Track Riders                145 pts  (wins 0)
Lincolnshire Poachers                113 pts  (wins 0)
The post-meeting presentations of the SSL Championship trophy and individual medals to the Kestrel riders were greeted with traditional war-cries from the large group of Crayford fans in attendance, who then joined the team on the centre green to celebrate a fantastic end to this comeback season. And the icing on the cake was novice reserve Louis Bryant winning the 'SSL Most Improved Rider of the Season', a fitting award for a great competitor and an influential member of the Crayford team. Louis has come along way from his unbeaten debut in May, when he was having to practise racing starts in the pits ahead of his first ever competitive race!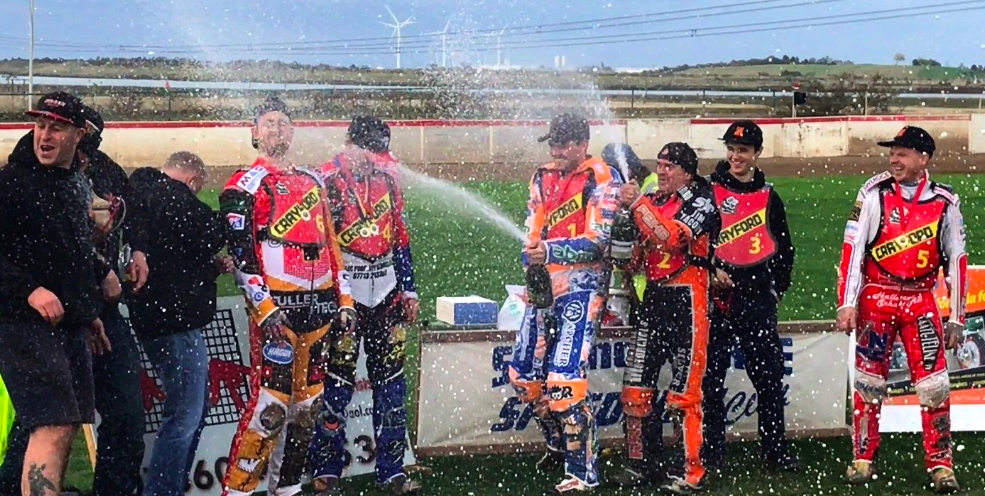 So how did Clean MyRide get involved?
As some of you may know Clean MyRide have been working with Paul Whichello Racing for almost two years now and through this ongoing relationship we were invited and introduced to Mark Shipman, the team manager. Being big fans of all sports amateur, and with the opportunity to use our combined bikewash degreaser on some seriously filthy bikes it was a no brainer. To quote Paul Whichello when he first used our product:
"Well last night I promised some photos of my bike after I had used "Clean my Ride" for the first time. I have to admit the baked on shale /clay mixture washed straight off. The heavily greased back wheel came up brilliantly with only a few very heavy tar like spots remaining, although letting it soak for a bit longer probably would have shifted them.

The soiling my bike gets in one practice / race day would probably equal a year's worth of road riding. So if this stuff can clean my bike as good as this, then no road rider will ever have to think twice about using "Clean MyRide".

A highly recommended product. 👍 It definitely gets the thumbs up from from this racing team."
Paul Whichello – Paul Whichello Racing
Despite a busy schedule promoting Clean MyRide at events, rallies and shows all over the country every weekend throughout the year, Paul Taylor from Clean MyRide still managed to make a few of the race meets to meet the team and witness first hand the abilities (and antics) that goes on behind the scenes as well as the sportmanship on the shale.
"It's been a real pleasure working with the team this year and experiencing speedway for the first time in far too many years! Hugely entertaining with a great following for a team reborn, all the riders have shown talent, passion and great sportsmanship throughout the season. Looking forward to many more seasons to come! Pleased they clean their own bikes though!"
Paul Taylor – Clean MyRide
If your interested in seeing the Crayford Kestrels or want more information visit their website crayfordkestrels.co.uk . Paul and discovering the thrills of Speedway follow him on Facebook, or visit one of the tracks at Iwade, Lydd or Sittingbourne.
You can even try it for yourself with bike, fuel and all kit included for a day experience. Contact Paul for more details.
The Winning Formula
Clean MyRide's formula is non-caustic, environmentally friendly and biodegradable. As well as the environment, Clean MyRide is safe on all surfaces including metals, aluminiums, paintwork, plastics, carbon and rubbers.
Importantly it is also non-streaking so you don't get those annoying white spots and marks caused when using some products.
Where can you use Clean MyRide?
It's not just all styles of motorcycles and cycles including Speedway bikes, lots of our customers are beginning to discover the amazing cleaning abilities of Clean MyRide on everything from cars and caravans, motor homes and trailers to boats!
Click on the links and check out our Facebook page and Facebook Group reviews or our reviews web page.
If you'd like order click on the links for either our motorcycle or cycle product or visit our online shop. Makes a great gift for the motorcyclist or cyclist, car, caravan or boat owner.
Thanks for reading.