"I tested Clean MyRide combined bikewash degreaser on my bike and then compared it with a market leading competitor product on my partner's motorcycle. Both products are similarly packaged; CMR was supplied with a robust trigger head with 3 settings, these being off, direct jet and spray. The spray option was chosen for the test.
The product was applied in accordance with manufacturer's instructions. The product is clearly visible when applied and was liberally coated onto a machine which had been exposed to the salt ridden post winter dirty rain washed roads and had just completed 150 miles in these poor conditions. My bike had also been left overnight in the pre-wash state to further challenge Clean MyRide combined bikewash degreaser with 'baked' on dirt.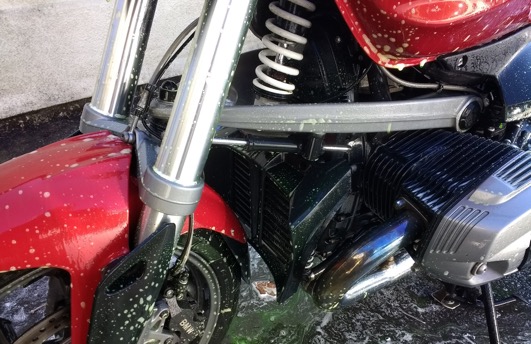 The product left a clearly visible green 'tinge' once applied which made a wash down check easier to complete with confidence. Any green residue was easy to spot and remove with water. In the picture below the green colouring can be clearly seen on the nut and hose rear brake assembly.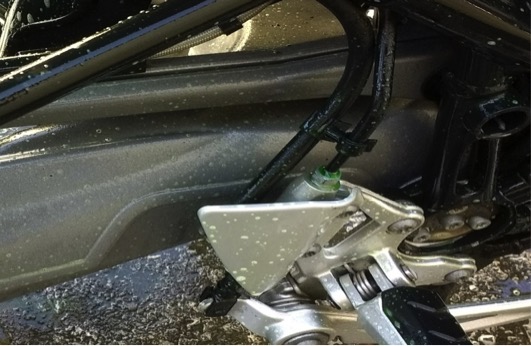 I left the product on my bike to work for 5 minutes, before agitating any stubborn areas with a detailing brush ready for final rinsing. The green 'tinge' previously mentioned can be clearly seen under the swing arm and exhaust in the images below.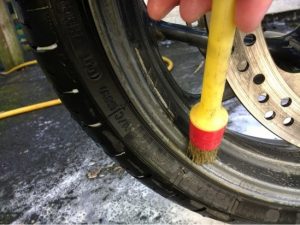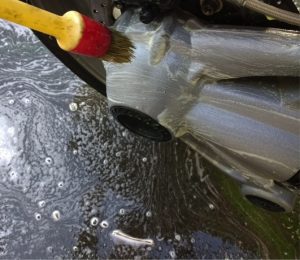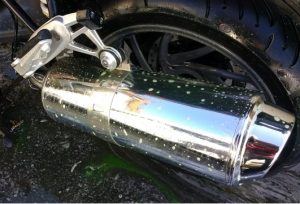 After agitating, the bike was rinsed off with clean water taking care to remove all cleaner residues. The results were pleasing and provided a sound base for further detailing work to follow.
For any major multi stage bike cleaning that I do I am always careful to allow appropriate time for the washing phase, arguably the most important element for the further detailing work which follows.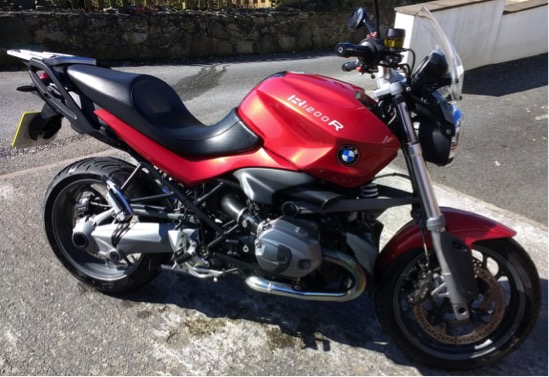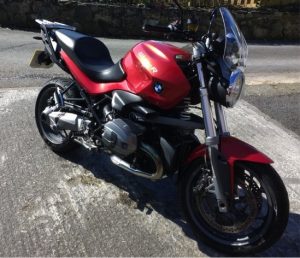 The results were pleasing and did not require massive amounts of elbow grease to achieve. I would be more than happy to add Clean My Ride Bikewash Degreaser to my cleaning arsenal. Easily as good as the other market leading product on test.
In conclusion, Clean MyRide is a good value for money 100% biodegradable bike friendly product which can be safely used on multiple surfaces and which won't break the bank in the process. Result.
Mike (10%) Smith
Aberystwyth MAG
Big thanks to Mike for taking the time to write and photograph this review for us, your time and efforts are very much appreciated.
(Mike was asked to test Clean MyRide bikewash degreaser on behalf of Craige at Electra MotoGear in Aberystwyth in Wales, a great motorcycle accessories shop and cafe. We are very pleased to say that based on Mike's feedback shared here, Electra MotoGear are now a stockist of Clean MyRide!
If you're interested to know more about Clean MyRide please contact us via our contact form
Follow us on Twitter at @clean_myride
Thanks for reading 🙂