Clean MyRide are proud to announce our recent co-sponsorship of Kent based Speedway rider Paul Whichello. Paul is an amateur 500cc speedway rider. A member of Lydd, Iwade and Dragons speedway clubs and won the Iwade/Dragons rider of the year in 2017. He is also a British Amateur League team member.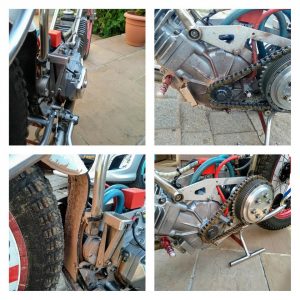 After getting in touch with us and discussing how we could work together, and of course seeing the state Paul's speedway bike after both race and practice days, we knew we could help both Paul and his apprentice rider/mechanic Roksana's lives easier keeping the bike looking and working in race-winning condition.
Paul was kind enough to write Clean MyRide a review and take photos of before and after. Here's what he had to say:
"Well last night I promised some photos of my bike after I had used "Clean my Ride" for the first time. I have to admit the baked on shale /clay mixture washed straight off. The heavily greased back wheel came up brilliantly with only a few very heavy tar like spots remaining, although letting it soak for a bit longer probably would have shifted them.
The soiling my bike gets in one practice / race day would probably equal a year's worth of road riding. So if this stuff can clean my bike as good as this, then no road rider will ever have to think twice about using "Clean MyRide".
A highly recommended product. 👍 It definitely gets the thumbs up from from this racing team."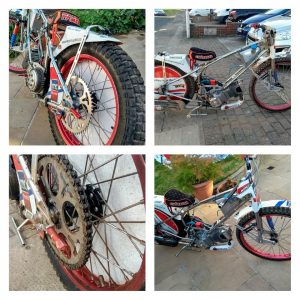 If your interested in seeing Paul and discovering the thrills of Speedway follow him on Facebook, or visit one of the tracks at Iwade, Lydd or Sittingbourne.
You can even try it for yourself with bike, fuel and all kit included for a day experience. Contact Paul for more details.
So how does Clean MyRide combined bikewash and degreaser clean the equivalent of a year's worth of typical road muck off so easily along with the clay/shale mix from Speedway tracks?
Clean MyRide's formula is a combination of premium grade traffic film and degreasers carefully blended to retain the optimum cleaning capabilities. Added to this are cleaning and wash agents, dissolvable dyes so you can see where you've sprayed the fluid to reduce usage and thickeners that hold the formula on the sprayed surface for longer allowing it to break down and dissolve grease, dirt, chain lubricants, oils, tar spots and even clay/shale.
Clean MyRide's formula is non-caustic, environmentally friendly and biodegradable. As well as the environment, Clean MyRide is safe on all surfaces including metals, aluminiums, paintwork, plastics, carbon and rubbers.
Importantly it is also non-streaking so you don't get those annoying white spots and marks caused when using some products.
Where can you use Clean MyRide?
It's not just motorcycles and cycles including Speedway bikes, lots of our customers are beginning to discover the amazing cleaning abilities of Clean MyRide on everything from cars and caravans, motor homes and trailers to boats, UPVC window frames, conservatory roofs and even ovens.
Click on the links and check out our Facebook page and Facebook Group reviews or our reviews web page.
If you'd like order click on the links for either our motorcycle or cycle product. Makes a great gift for the motorcyclist or cyclist, car, caravan or boat owner in your life.
Thanks for reading.