Having recently been to visit East Kent Advanced Motorcyclists for an Exhibitors' Evening in September and met a great group of fellow motorcyclists, we decided to snap up an advertising opportunity with the club in their bi-monthly magazine 'Out In Front'.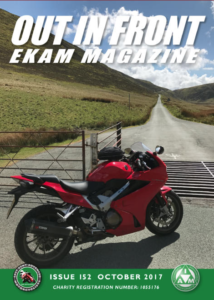 We have just received our copy today and look forward to a good read over the weekend. Clean MyRide's ad is on page 22 for our combined #bikewash #degreaser if you're interested in an exceptional labour saving, all-over motorcycle cleaner that's getting fantastic reviews.
As winter begins to appear and wet, dirty roads and filthy bikes become the norm again for those of us who ride all year round, take the effort out of cleaning and maintaining your motorcycle with our fast-acting, spray-on, wipe off or wash off one litre trigger spray.
Check out our reviews or click here to buy online
Clean MyRide will be advertising for at least the next 12 months in the #EKAM magazine and on the EKAM website and hopefully visiting the club again soon. Now I'm going to disappear for an interesting read and pick up some tips on staying upright this winter!